We are at it again! Working to do more for animals. "The Paws for the Cause" expansion! More pets than ever need our help and we want to provide it.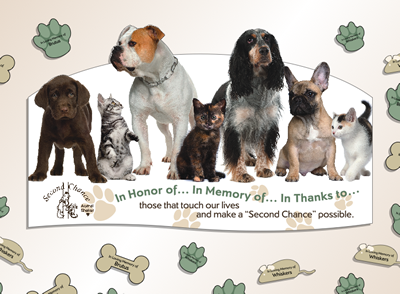 Second Chance Animal Shelter is on a bigger mission - Saving more pets by helping to keep them in their homes and making pet overpopulation a thing of the past. Our goal – a safe, loving, and happy home for every pet. Only 1 out of 10 pets that enter a shelter, finds a home? We want to change that. How? By creating a community education room in our Wellness Center to comfortably hold training classes, educational programs, and so much more to help animals. We also need to add a second surgical suite to keep up with the growing demand for services to fix more pets. In 2011, the Wellness Center is helping over 5,000 pets a year with spay/neuter services. A second surgical area will allow us to increase that number. Third, Second Chance wants to find new ways to raise the needed funds to bring these dreams to fruition. An adjacent building on the Wellness Center property will have a thrift shop to help turn donations of items into some of those needed funds.

This year we will have helped nearly 10,000 pets a through spay/neuter, wellness clinics, adoption, and various other programs of Second Chance. We need you so we can help keep more pets out of shelters and save more lives!

We need to pause and think of how much our pets mean to us. They add so much to our lives; lower our blood pressure, make us smile, offer unconditional love and enrich our lives in so many ways. We need to give back to them by providing every possible resource to make a difference. Please consider joining in our "Paws for the Cause" drive to raise the funds for this project.

Besides helping pets, this project provides a great educational opportunity for students from the Bay Path Vocational School in Charlton. The students are already on site in North Brookfield beginning this project. As supplies are received and money is raised, they will continue to provide the FREE labor project while learning important life skills in their chosen trades. Every donation serves two purposes – to help more pets and to educate the children of our future.

Second Chance will gladly accept donations in any amount or you can choose a category. Donations of materials will count towards the recognition program outlined below. Please fill out the form below or contact the shelter with what you can do to help. Choose your level in this quest for help for every pet! These plaques will all be displayed in our new community education room at the Wellness Center!


Be a part of PAWS FOR THE CAUSE!

Donate to Paws for the Cause

| | | | | |
| --- | --- | --- | --- | --- |
| Happy Birthday Emily! | | | | |




| | | | | |
| --- | --- | --- | --- | --- |
| Your Name Here! | | | | |




| | | | | |
| --- | --- | --- | --- | --- |
| Your Name Here! | | | | |




| | | | | |
| --- | --- | --- | --- | --- |
| Your Name Here! | | | | |




Paw Print Donors - $2,000 - $20,000


Matt & Maureen Kline




Sponsorships - Rooms adopted!

Office/Meeting Room
Wish List!




This list will be updated as donations are received....thank you!

Materials:

Liquid Nail (lots!)
2X4-10 KD lumber (100 needed)
2X4-12 KD lumber (5 needed)
2X4-16 PRESSURE TREATED lumber
10 sheets 1/2" CDX plywood
2 ROLLs 50LF SILL SEAL
30 sheets 4X8 3/4" TUFF-R R5.0 (or similar)
Ceiling Tiles (please call for specifics)
20 pkgs. WHITE WALL molding
Drop ceiling cross tees and main runners
1000 HOLD DOWN CLIPS for drop ceiling
300FT CEILING WIRE 18GA
10 BAG R13 3-1/2X15 UNFACED insulation

24 ROLL 10X100 4 MIL CLEAR POLY
100 sheets ½" 4 x 12 drywall
100 SHT 5/8 FIRE SHIELD S/ROCK 4X12
15 5 GAL JOINT COMPOUND 5GJC Z 16.52 EA 247.80
30 rolls mesh joint tape (white)

Electrical Supplies:

Misc.:



Pay Pal option!
Donor Categories

One Cat Paw Up
$200 Donation

YOU GET:

a cat paw on the web site with your name (or your pet's name) on it and wording
a 2 line recognition on the new Paws for the Cause plaque

One Dog Paw Up
$250 Donation

YOU GET:

a dog paw on the web site with your name (or your pet's name) on it and wording
a 2 line recognition on the new Paws for the Cause plaque

Individual Mouse Plaque
$500 Donation

YOU GET:

one big mouse on the web site with your name and wording
a 4 line individual 4 x 6 (approx..) mouse plaque in the new Education Room

Dog Bone Individual Plaque
$1,000 Donation
YOU GET:

a large dog bone plaque on the web site with your name and wording
a 5 x 8 individual dog bone individual plaque in the new Education Room with 5 lines

Paw print
$2,000 - $20,000
Corporate/Individual Room Donor Plaques. This is for sponsorship of large plaques through the building including in the education room


YOU GET:

a large paw print on the web site and wording
a sign on the door to the room that you are sponsoring or a large Paw Print in the education room (your choice)
Reception Room Sponsors will have a large plaque on the wall in the reception area of the Wellness Center. There are 5 of these sponsorships available.
Wording on these plaques can be up to 5 lines, including a large bold name line (if desired)

Rooms available for sponsorship at the shelter.
(This is subject to change as sponsorships are taken).
Surgical Suite #1
Reception Area Sponsors
Cat Recovery Room
Office/Meeting Room
$ 5,000.00
$20,000.00
$ 5,000.00
$ 2,500.00

Surgical Suite #2
Dog Recovery Room
Paws for the Cause Thrift Store
Clinic Exam Room (2 available)
$ 5,000.00
$ 5,000.00
$10,000.00
$ 5,000.00
Yes! I want to help expand Second Chance's work through the Paws for the Cause Expansion! If you wish to sponsor a room and are paying by check, please print, complete, and mail this Paws for the Cause form with your donation. Or, you may use the online form below and pay using Pay Pal. Thanks!