We sincerely appreciate any way that you can help us help these homeless pets. Below are MANY ways that you can help Second Chance pets. There are many fun and easy ways to help, and many of them provide great benefits to you as well whether you are a business or an individual. Each way helps to bring much needed funds to our shelter. Thank you for your support!
Second Chance Animal Shelter is a non-profit, tax-exempt organization. All donations are tax deductible.
We will happily make arrangements to pick up your donations. Please ensure that items are clean and in good condition. If you need to make arrangements, please call Second Chance at (508) 867-5525.
If you would like to make a tax deductible monetary donation, please make the check payable to "Second Chance Animal Shelter, Inc." and mail to 111 Young Road, P.O. Box 136, East Brookfield, MA 01515. If you would like to set up automatic monthly payments, check out The Pet Pal Program. Or, you may donate on line using the PayPal button below:
Cat Food (canned)
Kitten Chow dry
Dog and Cat Food, especially Bland Pet Food available at Veterinarian offices such as Purina EN, Hills ID, Eukanuba Low Residue
Masking Tape (or other similar type) for marking crates
Advantage or Revolution for fleas
Large Plastic storage containers (preferably clear)
8 1/2 x 11 (letter) or 11 x 17 white copy paper
corn oil
Karo syrup
plastic clothes pins
Postage stamps - books or rolls would be excellent!
Donations of gift certificates for restaurants, goods and services or new merchandise (to help support our fund raising events)
Gift Certificates to Walmart or Staples
Kuranda Dog and Cat Beds and Cat Towers - We are especially in need of small and medium size beds for dogs, and beds and towers for cats.
Exam Gloves (lots of them! - any size)
Park benches and picnic tables (for dog park)
Paper towels (lots of them!)
Mailing labels (30 per page type - any brand)
Clean Towels
Dog Toys
Cat Houses and Toys
Bleach
Yarn (for making cat toys/blankets)
Leashes, Collars, Gentle Leaders
BooBooLoon pet collars
Distilled water
Manilla envelopes (9x11 or 10x13)
Large Wicker Baskets
Trash bags (tall kitchen - white or black)
Rubber bands, envelopes, tape rolls for tape dispenser, misc. office supplies
pipe cleaners (for making cat toys)
old or new socks and catnip (for making cat toys)
Lint Rollers
Laundry detergent
Scrub brushes
Brooms
Clipper blades (#40 A5)
Squeegees (hand and floor)
Mop heads (industrial size)
Plastic Spray Bottles
Outside hoses
toilet paper
Clip boards
HP officejet 8600 printer cartridges
Canon 210XL cartridges
Pooper scoopers
Air fresheners (aerosal or solids)
Snow Blower
Shark mop pads
grooming clippers
thermometers (wall, refrigerator) (2)
outside hose reel holders on wheels
grass seed
lawn mower
pet thermometers
s.f 3 staples
Batteries: 9 volt, C, AA, AAA
Pill pockets
Poop bags
Puppy Pads
Electric stapler (that takes standard staples)
Gas cards
2 1/4 register tape
pet friendly ice melt
heavy duty slip leads
Use Amazon to fulfill our Wish List!


Purchase a PETCO gift certificate for Second Chance through Petfinder!


Back to Top
Second Chance is now collecting your used shoes to help raise funds for the shelter. We accept all types of shoes that are in wearable condition. Please no moldy or shoes with tears or rips. These shoes will be recycled to help raise funds for Second Chance pets. You can bring these shoes to either of our locations - and thank you!
Back to Top
Many dogs have already gained relief from fear and anxiety by donning a Thundershirt (including my own foster dog!), which works simply by applying gentle, constant pressure. Whether the Thundershirt does the trick on its own or allows the dog to relax enough to engage in training with you, it is an inexpensive tool that we want you to be able to use to help your dogs.



For more info on Thundershirts and a short video on how easy they are to use, see www.petfinder.com/admin-content/thundershirt.html

Click on the banner to the left and you will be taken to a special page created specifically for Second Chance. Then you can purchase a Thundershirt for only $27.00 (deeply discounted from the retail price of $36.99) with FREE shipping and Thundershirt will send it directly to the shelter!
Back to Top


BOGO Bowl - "You buy a bag and we give a bag to a pet in need! At BOGO Bowl, BOGO means buy one, GIVE one. It's simple. Your couch-warming, bed-hogging, sandwich-stealing jogging buddy gets great food with quality nutrition… and so does Chance or Lucy down the street. Yep, down the street. The second bag goes to an animal in need in your community." So BOGO Bowl to help feed the pets at Second Chance!

Click here to BOGO Bowl!
Back to Top
Please save your pawpoints from Fresh Step Litter and bring them in to Second Chance!
Back to Top
Second Chance is now a recipient for donations of gift cards at Plastic Jungle! Donors can send gift cards directly to the shelter or go to www.plasticjungle.com.

For complete details on how your unused or low balance gift cards can help Second Chance, click here!
Back to Top
Retirement & Insurance Concepts, Inc. will donate up to $50 per $250 spent to Second Chance Animal Shelter when you buy insurance: life, accident, mortgage term insurance protection, 401k and IRA rollovers, annuities and/or disability. Please download this flyer for details!

For more information, please contact:

Retirement & Insurance Concepts, Inc.
Steven & Meg Kiel
877.967.4766
Back to Top
"There is no disease or condition of companion animals that takes more of their lives than euthanasia." Janet M. Scarlett, DVM, MPH, PhD, Professor of Epidemiology at Cornell University.

With an estimated 5-6 million pets euthanized each year, our task is an enormous one. We are committed and ready for the challenge. From our humble beginnings in 1999 as a system of foster care homes to the opening of our Adoption Center in 2002 and on to the opening of our Wellness & Education Center in Nov. of 2010, we continue to develop new strategies to bring about the change we all want for our animals.

There are a number of ways that Estate Planning can be accomplished including Bequests, Charitable Gift Annuities, Pooled Income Funds, Life Insurance, Property and others. We can offer you assistance in deciding which options are best for you and your family. Please contact us. Your gift can help us to continue our work.

We are often asked how to add Second Chance into supporters wills. It is a simple addition to a will language that would say something like:

The language to be suggested for wills can be as simple as: "I give the sum of __________ ($_______.00) dollars to the Second Chance Animal Shelter, Inc., presently of 111 Young Road, P.O. Box 136, East Brookfield, Massachusetts."

or for property: "I leave my real property located at ________ to the Second Chance Animal Shelter, Inc., presently of 111 Young Road, P.O. Box 136, East Brookfield, Massachusetts."

Annual Report 2010
501(c)3 Letter of Determination
Back to Top
CardPartner.com Info:

"Support SCAS with every purchase:


No Annual Fee.
Low Introductory APR on purchases and no balance transfer fees for 6 months.
Earn bonus points for FREE airline tickets, merchandise, cash-back and more at participating merchants.
$50 donation by the bank when you first use the card and ongoing contributions.
Enhanced Visa Platinum benefits, including 24/7 Emergency Customer Service, 100% Fraud Protection, Auto Rental and Travel Accident Insurance and much more.

Funds from our new Visa card will help to fund our many programs that save pet lives and help improve the community."
Back to Top
Second Chance Animal Shelter cares for homeless surrendered and abandoned pets until new loving homes can be found. In addition, Second Chance operates a low cost spay/neuter program and an education outreach program to provide much needed services to the public. The Pet Pal program was established to provide needed funds to allow us to continue to provide these vital services. Your monthly support helps us to care for these homeless pets and provide these needed services.

Become a Pet Saver, Top Cat, Top Dog, or Pet Champion!! Print the Pet Pal Donation Form, complete, and mail today!
Back to Top
The Food for Pets Pantry was established to help people in need feed their pets so that they don't have to surrender them. Donations can be brought to the shelter or you may use PayPal to make a monetary donation.

Pantries that are helped by Second Chance:

Catholic Charities of Worcester (which also serves Southbridge)
CHIP-IN of Charlton
Elder Services of Worcester
St. Joseph's Church pantry in North Brookfield
The Queen of the Rosary Catholic Church in Spencer
The Unitarian Universalist Food Pantry on Holden St. in Worcester
The Wachusett Food Pantry in Holden
...and we are always adding more!

Where can you drop off donations to help?
At the shelter (111 Young Road, East Brookfield, MA) - can accept both food and/or monetary
Petco in Auburn and Shrewsbury (food donations only)

Thanks!
Read the T&G article.
Read the Examiner article.
SPCA International chooses Second Chance as it's Shelter of the Week recognizing the Food for Pets Pantry!

Back to Top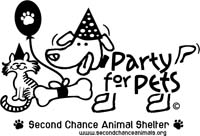 Second Chance has a program that recognizes kids who give back to the animals called "Party for Pets." This program shows children that even at their young age, they can make a difference in the lives of homeless pets. This program provides a party package for kids who are having a birthday party and are asking for gifts for the shelter pets instead of themselves. The kit includes party favors and a t-shirt for the birthday girl or boy. In addition, when kids bring the pet gifts to the shelter after the party, they will get a tour of the shelter and any pictures or written reflections on why they chose to have a "Party for Pets" will be featured on the Star Supporters webpage. "Second Chance Party for Pets is a wonderful and fun way to involve children in helping homeless animals" stated Carol Kelley, an Educational Outreach Coordinator. "It is also a great first step that allows children to think about and participate in a community service program".

Are You Ready to Party for Pets? Download the Party for Pets Poster!

Party for Pets recognized by the Examiner: "Entertaining idea: Birthday parties for a good cause" By Paula Slade, Jul. 12, 2009

TheDailyLeicester.com: Six year old helps Second Chance Animal Shelter (July 20, 2011)

Party for Pets Testimonial:

My daughter Madison turned 9 on January 23rd. We had recently gotten a new kitten and found information from Second Chance about having her spayed. While online, I saw your "Party for Pets" information. My daughter cries when she sees the ASPCA commercials on television and always asks how she can help the animals. I came home that day and told her about the "Party for Pets" and she immediately decided that's what she wanted to do. I contacted the shelter and was sent the party package of favors and her t-shirt. Once we received the package we began planning, she came up with lots of great ideas! We played all kinds of animal games, including animal bingo and a word search about ways to protect our pets. We also made "Happy Socks" for shelter cats and peanut butter dog cookies for valentine's day. It was amazing! She invited 10 friends to her party, I can't believe the donations they brought for the shelter! My dining room table was full of "stuff" from toys to food, and everything in between. The kids had a great time and Madison is so proud of all the items she will be bringing to the shelter. Madison is looking forward to bringing all the donations to the shelter and getting her "tour"! Thank you so much for allowing us this amazing opportunity! Dawn L. and Madison
The Party for Pets Program and Logo are Copyrights of Second Chance Animal Shelter
Back to Top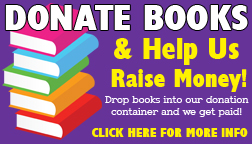 Want your old books to help pets? Second Chance Animal Shelter is raising money through donations of used books, CDs, DVDs, records and audio books. The shelter has placed a drop-off donation container to collect these items from community members who'd like to repurpose their used goods while also helping Second Chance raise money. The shelter will be paid on an ongoing basis for all items collected in their donation container.

The gray book donation container, distinguished by its purple and yellow 'Got Books?' signs, is located in the parking lot of Second Chance's Pet Wellness and Education Center at 372 North Main Street in North Brookfield. This program is an ongoing fundraiser and donations can be made by the public at any time. Books can also be dropped off at Second Chance's Adoption Center at 111 Young Road in East Brookfield. All funds raised through the collection of these donations will be used to help pets in need.
Back to Top
Norman Tonelli, owner of West Brookfield Counseling Center and Tonelli Learning Center, is generating donations for the shelter again this year through his Family Fun Day! All proceeds from sales of his book "Raising Great Kids" in celebration of its 10th year in print be donated towards Second Chance Animal Shelter. Books are on sale now for a reduced price of $3.00 a copy! Get yours today - the books are selling fast!

For more information, visit Mr. Tonelli's website at www.normantonelli.com.
Back to Top
Animals can greatly and positively affect the lives of people they touch. If you have lost a loved one and wish to make a donation in their memory to Second Chance, please give us a call or send us a note with your loved one's name and the name and address of the family member who should receive the list of donors. Second Chance will send each donor a thank you card for the donation. In addition, we will send the family a list of donations received in the loved one's name. It usually takes a few weeks to get in all the donations. All donations are tax deductible.
SCAS adopter, C. Reardon, shares her thoughts...
Back to Top
Try out these tasty recipes submitted by volunteers, staff, and supporters to create this yummy cook book! Only $10 each - would make great gifts and support the shelter at the same time! Purchase at the shelter for $10 or send $12 (includes shipping) to Second Chance Animal Shelter, P.O. Box 136, 111 Young Road, East Brookfield, MA 01515
Back to Top
Second Chance Animal Shelter is pleased to offer a wonderful opportunity to Sponsor a Pet through Petfinder! Visit our Petfinder website at www.petfinder.com/shelters/MA30.html and click on Our Pet List which will give you a any of our adoptable pets. You will see the option to Sponsor Me, just click on it and it will take you through the steps to sponsor the pet of your choice. If you are not a petfinder member, you will be asked to register (it's free). This is a wonderful option for those who aren't ready to adopt or can adopt only one. Thanks for helping our pets while they await their forever homes!
Back to Top
Second Chance is approved for Bring Fido's pet charity program! We will receive a $5 donation every time one of our members books a pet friendly hotel room on BringFido.com.

Visitors must use this link: www.bringfido.com/track?aid=secondchance for Second Chance to receive a commission. Plan your pet friendly vacation today!!
Back to Top
Second Chance Merchandise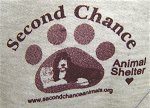 Second Chance Merchandise! Advertise for and support the shelter by purchasing sweatshirts,
t-shirts, coffee mugs and more!
Back to Top
eBay Giving Works Program
Purchase an item on the Second Chance eBay page and the seller will donate 10% to 100% of the final sale price to the shelter! You can be a seller or a buyer to participate! Click here for eBay Giving Works
Back to Top
iGive.com


Support SCAS through iGive.com! Follow the iGive.com link to order from your favorite stores, and make a donation to Second Chance at the same time!
Back to Top
ADT Pays
Sign up for ADT Home Security today and Second Chance can make a $125 commission on sales completed by ADT.

Call 1-877-811-3616 and give the code A23812 along with your name, phone number and address and they will provide details on how your purchase can help Second Chance.

Download the Information Sheet

Amazon.com

Second Chance earns money when you use this link to search and purchase items through Amazon.com



Or, use Amazon to fulfill our Wish List!



Back to Top
Please use http://shopforshelters.com?a=1539 to link to our store.

We thank you for your participation in Shop for Shelters and look forward to working with you to support your efforts to care for and support animals in need.
Back to Top


Help Second Chance by donating a gift certificate from Doctors Smith and Foster.
Back to Top
Every time you shop with Sirius Republic, enter the rescue code "RPSC71" and they will donate a portion of the proceeds from the sale to Second Chance!
Back to Top
Second Chance Animal Shelter is a partner of the Big Apple Pet Supply Give Back Program. Purchasing pet supplies from Big Apple Pet Supply. Big Apple Pet Supply will provide us with a full 5% direct donation of your total order amount. If ordering from their website, please enter DonateToSecondChance in the COUPON CODE field on the "Review & Submit" page at final checkout. If ordering by phone please provide the code to the representative. We sincerely appreciate your contributions which help continue our mission.
Back to Top


$upport Second Chance Animal Shelter When You Shop at Flying Panda Gifts!
When you or other friends of Second Chance Animal Shelter shop at www.flyingpanda.com or order through Flying Panda Gifts catalogs, 10% of your purchases will be donated to our organization, providing us with much needed funds. Just click on the banner; it takes you directly to the Web site where you'll find many unique products for pets and their people.
Back to Top

We are excited to announce the opening of our Animal Shelter Store! Now you can shop for your pets while supporting us! Click on the banner above and you will be taken to the store where you can shop for more than 1000 high quality products. Purchase natural food, treats, remedies and more. Every time you purchase a product, we get paid! Your purchases can help us save more animals and provide necessary funds for veterinary care, supplies, transport and more. You can make a difference by shopping at our Animal Shelter Store.
Back to Top
Join GoodDining for free and dine to earn up to 6% for Second Chance! Visit GoodDining and select Second Chance as your charity!
Back to Top

Every time you search or shop with GoodSearch, Second Chance earns a penny. Pennies do add up to substantial income for the shelter so don't be shy, search and shop every day! Visit GoodSearch and select Second Chance as your charity!
Back to Top

Help Second Chance Animal Shelter at hundreds of stores A Penny Per Search at iSearchiGive.com. More New Stores, just about every week! Doubled donations and special deals. 680+ Merchants to serve you! Great Deals to please you!
Back to Top
Consider a purchase of supplies and/or materials for Second Chance through GiveSomeThing! Second Chance's wish list is posted on the site. Items purchased are shipped directly to Second Chance! Click here for our GiveSomeThing page and thanks for shopping!
Back to Top
Raise money for Second Chance Animal Shelter, Inc. by having H&R Block prepare your taxes!

1. Take the referral form to a participating H&R Block office and give it to your tax professional. To find the nearest H&R Block office, go to hrblock.com.

2. If you're a new client, your organization will receive $20.

3. Feel good knowing you helped your organization raise money and you received exceptional tax preparation service.
Ready to get started? Download the flyer!
Back to Top
We accept the following items for recycling:
Used, Broken or Unwanted Gold Jewelry
Cell Phones
Ink Jet Printer Cartridges
Laptop & Netbook Computers
iPads & Tablets
Apple iPods & MP3 Players
Digital Cameras
Digital SLR Cameras and Lenses
Digital Video Cameras
Handheld Game Systems
Game Consoles (Wii, PS3, Xbox) and Video Games

Range Finders and SkyCaddies
Mobile Hotspots, 4G USB Air Cards and MiFi Devices
Graphing Calculators
DVD Movies & Videogames
Portable DVD Players
Digital Picture Frames
GPS Devices (Garmin, Magellan, Tom-Tom)
Radar Detectors
Kindle & Sony Book Readers

All manufacturers and models accepted! Mail to Second Chance or drop them off in person. Our address is Second Chance Animal Shelter, P.O. Box 136, 111 Young Road, East Brookfield, MA 01515. We will ship them to participating companies and get paid via check or gift card for recycling them through various programs. Click here for directions to the shelter.
Back to Top
You can help spread the word about the adoptable pets at Second Chance by providing a link to our adoptable pets pages from your website. 3 Easy Options include:
Link to the Adoptable Animals webpage on the Second Chance Animal Shelter website: www.secondchanceanimals.org/adoptable.htm


Link to our Petfinder webpage: www.petfinder.com/shelters/MA30.html


Copy and paste this source code directly into your website and it will create a Petfinder Pet Scroll highlighting all of our pets listed on Petfinder:

<IFRAME src="http://fpm.petfinder.com/petlist/petlist.cgi?shelter=MA30&status=A&age=&animal=&title=&style=3&ref=e5BJ0cJajKRgmLA" WIDTH=450 HEIGHT=600 MARGINWIDTH=0 MARGINHEIGHT=0 HSPACE=0 VSPACE=0 FRAMEBORDER=0 SCROLLING=yes BORDERCOLOR='#000000'></IFRAME&gt
To view an image of this scroll, click here.
Back to Top
---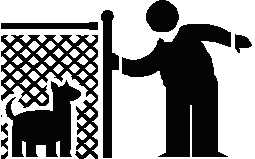 If you own a business, this is an excellent opportunity to help out the animals and advertise your business. This is also a wonderful way to sponsor a gate in memory of a loved one. The sponsored gate bears a plaque on it designating the sponsor.
There are 20 kennel gates that each have a high exposure to the public and a sponsorship fee of $250.00 for the first year. This includes the plaque, displaying three lines of text, that will be prominently displayed on the gate and visible to the public. The sponsorship program will continue after that with a yearly renewable sponsorship of $100.
Suggested type:

Sponsored by
Acme Pet Supplies
(555) 123-4567, www.acme.com
or
In Memory Of
"Sadie"
from Mom and Dad Smith
Want to sponsor a Kennel Gate? Click Here for a Sponsorship Form!
Back to Top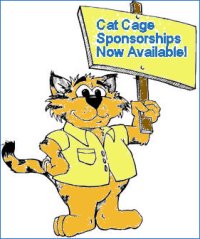 Sponsoring a cat cage is a great way to honor a loved one (human or pet) or advertise a business. Your sponsorship is noted with a plaque on the outside of the cage that you are sponsoring. Hundreds of people pass by these cages each year! Plus, your sponsorship helps us to purchase much needed equipment for our cats. We hope that you will take part in our sponsorship program. The cage sponsors are limited to 12 and are renewable each year. We hope that you will help us help them.

The cat cage sponsorship is $150.00 per cage. This includes the plaque, displaying three lines of text, that will be prominently displayed on the cage and visible to the public.
Suggested type:

Sponsored by
Acme Pet Supplies
(555) 123-4567, www.acme.com
or
In Memory Of
"Sadie"
from Mom and Dad Smith
Want to sponsor a Cat Cage? Click Here for a Sponsorship Form!
Back to Top