Home Bound to the Rescue
Elderly Assistance for Pets Program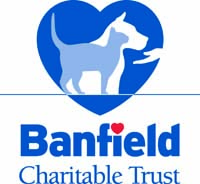 This is a program that is an add on to an existing program. We currently have a program called "Food for Pets" Pantry that provides pet food to over 7 local food pantries plus Catholic Charities that distributes our pet food to several other food pantries. With this program, we have found that in addition to pet food, elderly need assistance with basic pet care during these tough economic times. Many of the elderly cannot afford to provide basic medical care for their pets and/or don't have the transportation available to get their pets to a veterinarian. This program assists pet owners by providing the services right at their doorstep. By going to elderly housing complexes, we are able to help the elderly to keep their pets healthy and up to date on vaccines. This prevents the elderly from having to choose between their pet and putting food on their table.
Thanks to a grant from the Banfield Charitable Trust Foundation, this program was launched in early 2012. If you would like further information on this new program, please email us.